Interactive Migration Help: Verify V4 Account is Correct¶
After you have logged in successfully, the first thing to verify is that you have connected to the correct account. Sometimes users may make multiple accounts for various reasons, such as for renewing a domain in an account where they have forgotten the password. You can make sure this account is correct by verifying that your domain names appear in your account.
To do this first click "Services" then "Domains." Make sure that the expected domains appear in the list.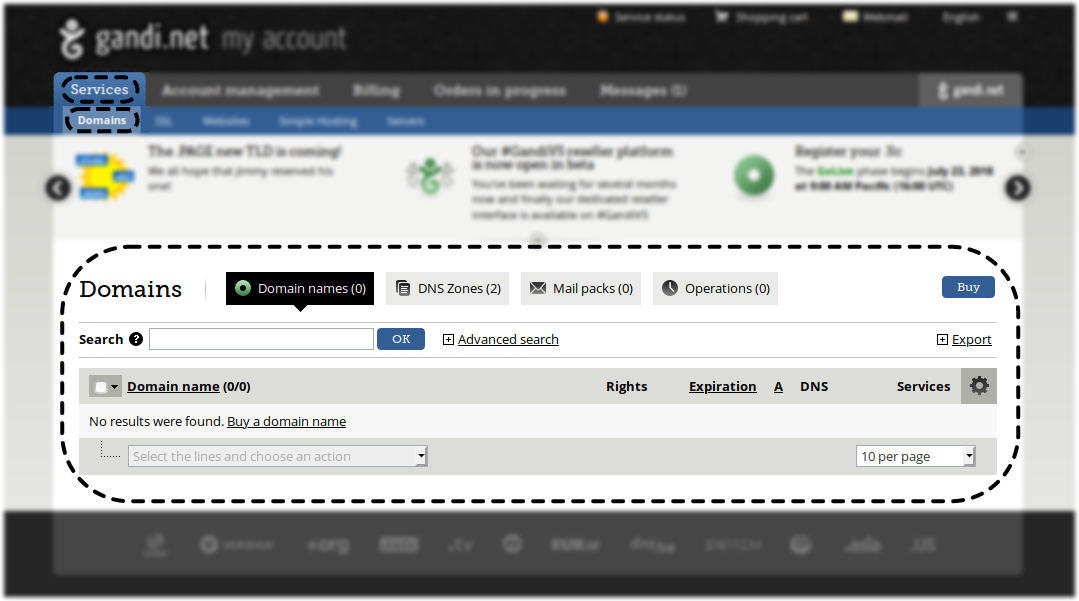 If you cannot see the expected domains, try logging in to any other accounts you have access to.
If you have no other account handles, or if you have them but still could not find the expected domains, you will need to contact our support team. A member of our support team will help you with the secure procedure needed to retrieve this information.
When you contact support, make sure to provide as much information as possible. If you can include a domain name you own or a site address it will help our agents to identify your account more quickly.
Other Products¶
If you don't have any domain names with Gandi, but instead use some of our other products, you can look from them in the other sections. To do this first click "Services" then the name of the appropriate section:
SSL (for SSL certificates)

Simple Hosting (for web hosting)

Servers (for Cloud / VPS servers)
If you have website with Gandi contact our support team to see if they can be migrated.
Once you have verified you are in the correct account, you are ready to proceed to the next step. In the next step you will verify some additional information in your V4 account.